About Me..............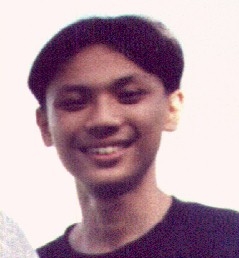 Hallo NetSurfer !!! You just Arrive here to my Brand & New Updated Homepage !! OK now let me introduce myself first,
My real name is Sherwin Reinaldo Unsratdianto Sompie but just call me Aldo !! I'm 18 and on 25th October, i usually celebrate my Birthday.
Now I Live in Surabaya, but I came from the one and the famous city in Indonesia : Manado. Yeah....I finished my Junior & Senior High School there. In Surabaya i'm a student of Electrical Enggineering in Petra Christian University.
Oh...yes....my address in Manado : Jl. Kampus Barat Bahu Lingk III, Manado 95115 Telp : (0431) 861560 e-mail : bfsompie@manado.wasantara.net.id
In Surabaya : Jl. Siwalankerto Permai V / L-21 Suabaya, 60236 Telp : (031) 8410078 e-mail : aldo@mitra.net.id , telsher@matt.petra.ac.id I have brother, Rio who live with me in Surabaya.
About Hobby ?? Hm......I Love to chatting with my friend. Want to meet me ?? Just go to channel #kawanua on your chatting program. Why Kawanua ? The word kawanua used to describe a person who came from the island of North Celebes, particularly from Manado. Meet the Kawanua's People who came from all over the world. Hope to see you there !!
I also love to play games. I have many game collection. Incuding my favorite game : Starcrat.
Soccer game is one of my hobby. Acctualy the Italian League Soccer. Meet my favorite team : Lazio.
OK that's all about me..........and take a time to Sign My Guess Book OK ??
| About Me | Favorite | Picture Gallery | Sign My Guess Book | View My Guess Book |